We operate a large recreational gymnastics programme from walking to 15 years, across 8 of our leisure centres. Classes use specialist apparatus and follow a programme of badge work and local competitions. 
Gymnastics- Preschool
These classes are split into two different types; Gyminis (Adult & Child), and Gymikins (Independent), and are available at Armley, Fearnville, Holt Park, Kirkstall, and Morley leisure centres. Classes involve a combination of exploratory play and structured activities to develop both gross and fine motor skills, as well as social interaction and communication. Each class has specialist pre-school gymnastics apparatus and soft play equipment.​ For days/ times/ prices and availability please contact the relevant centre for information.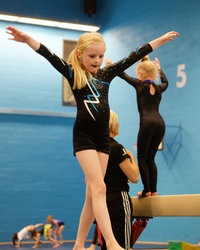 Gymnastics- Recreational
These developmental gymnastics classes are for children of primary and secondary school age, and are available at Aireborough, Armley, Fearnville, Holt Park, Kippax, Kirkstall, Middleton, Morley and Scott Hall leisure centres. The classes are grouped by ages 4-5yrs, 6-7yrs, 8-9yrs, and 10-15yrs. Children practise and develop specific gymnastics skills on the apparatus of bar, vault, beam, floor and trampette, and work towards achieving badges. 
Advanced Recreational
These classes are by coach invitation and are for children who demonstrate a good ability level on all apparatus and wish to take part in local competitions. Children can also use this class as a platform before moving on to club level gymnastics at one of the many private performance clubs across the city. These classes are available at Armley, Holt Park, Kippax, Morley and Scott Hall  leisure centres
Clubs
There are a number of private clubs which operate from our leisure centre facilities:
Disability Gymnastics
If your child has a disability then we can arrange an individual assessment with a coach and signpost to the most appropriate class within our programme for their needs. Please complete the gymnastics adaptation form and email to gymnastics@leeds.gov.uk Gymnastics Adaption Form (PDF,162 KB)
Frequently Asked Questions